Commercialize your Earth Observation Data with GeoStack.
GeoStack allows satellite operators to process, manage and automate the distribution of satellite imagery at scale. Generate archives, pre-process and monetise your data without spending millions of dollars on bespoke workflows and get data to your users more efficiently than ever.
GeoStack Benefits
Reduce the time and cost of setting up data processing and distribution infrastructure.

Access an existing network of data buyers.

Improve the user experience for your customers by providing them easy access to your EO data. 

Scale out your data management and distribution as you grow without having to spend millions of dollars.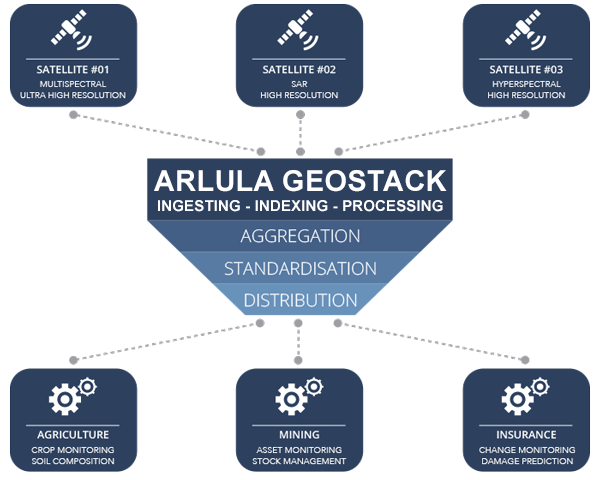 "We are using Geostack to manage the data we collect from our first EO mission. The service that Arlula has provided has been fantastic!" – Venkat, CEO LC60.
"Geostack has helped us quickly scale our EO data management operations and reduced the load on our dev team." – Taofiq, CEO Spiral Blue.
Automated Data Management
Store, index catalogue and process your EO data at scale in the cloud.

EO data is stored in its raw format, processed and delivered on demand to meet user requirements.
Access the Marketplace
Sell your data to over 1,000 users in over 60 countries through the Arlula marketplace.

A quick way to start monetising your EO mission data.
Instant Ordering
Users can access a robust API or white labelled GUI to search, purchase and download satellite imagery on demand.

Create teams that allow your customers to share billing details and download data at an organisational level.
Delivery & Billing
Monitor your orders and approve them manually or automatically. Generate invoices through our platform.

Automated billing management system that allows for credit card payments through the API and customer GUI.
Get access to GeoStack
If you'd like to learn more about Arlula's GeoStack product, please register your interest in the contact form and we'll get in touch with you.