Arlula: Your Shortcut to Effortless Satellite Tasking
Effortlessly address the complexities of obtaining new satellite imagery. Arlula tasking streamlines the entire process with its integrated, user-friendly solution that offers market leading efficiency.
Cloud-Based Storage and Access.
The Arlula Tasking platform offers a streamlined approach to acquiring new satellite imagery. Our integrated solution allows users to effortlessly place tasking orders, receive feasibility, pricing, and download imagery seamlessly all within the Arlula platform.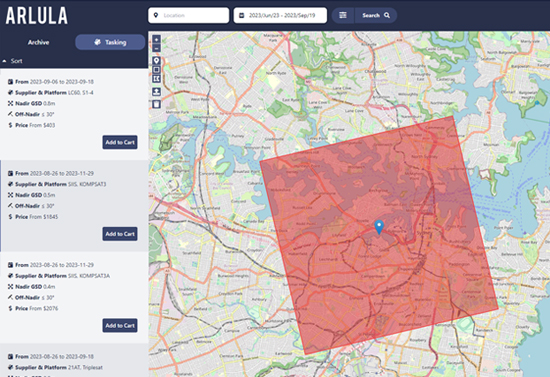 Simplified Satellite Tasking Across Sensors: Arlula Tasking simplifies the often complex process of ordering new satellite imagery, providing a comprehensive solution.

Diverse Dataset Collection: Arlula offers an extensive range of optical and SAR geospatial datasets sourced from leading satellite providers such as SIIS, BlackSky, LC60 & 21AT. 

Flexible Ordering Options: Tasking orders can be placed through our user-friendly console, APIs or Python SDK, providing adaptable and accessible means of interaction.

Cloud-Based Storage: Once acquired, tasked imagery is securely stored within Arlula's cloud-based storage infrastructure, facilitating further analysis and streamlined sharing.
Use Cases
Infrastructure Encroachment Detection:
Monitor and identify potential encroachments on critical infrastructure.
Advanced Agriculture Management:
Enhance crop yields and optimise field utilisation through precision satellite imagery.
Pipeline Infrastructure Risk Management:
Mitigate risks associated with pipeline infrastructure effectively.
Innovative Land Management and Urban Planning Solutions:
Develop cutting-edge solutions for efficient land management and urban planning.
Environmental Risk Assessment:
Monitor deforestation patterns for comprehensive environmental risk assessment.
Optimised Construction Planning and Monitoring:
Enhance construction planning and monitoring processes through advanced satellite imagery.
Contact Us About Scalable Satellite Tasking
If you'd like to learn more about Arlula's Satellite Tasking, please reach out using the contact form and we'll get in touch with you.