How to Download Order Resources
Introduction
In this tutorial we'll be showing you how to download individual resources associated with your orders.
After you make an order from Arlula's global network of satellite imagery, it will often be delivered to you in a bundle of files depending on the supplier and type of imagery you ordered. Not all bundled files are required straight away, so Arlula allows you to access any of these specific resources via your account. This gives you flexibility and control over the data you acquire.
What you'll need:
Access to the Arlula API account login or signup page.
 Step 1
Sign into the Arlula API dashboard with your account details. If you're new to Arlula, you'll need to create an account, this is a fairly simple process that should only take a few minutes.
Visit https://api.arlula.com/signup and create an account.
Once you signup you'll receive a confirmation email from us. If you cannot find it make sure to check your spam folder.
If you haven't created your first API credentials yet, you can do so easily by following this tutorial here.
Step 2
Find the API that placed the order you wish to download in the dashboard and click the ' ⋮ ' on the right hand side.

Step 3
Select ' order history '.

Step 4
Find the order you wish to download and click 'View Order' (for this example we are using the Rio sample imagery order 5a7a049d-f504-4c60-976b-a0d06e1b84e1).
Step 5
On this page you can review details about the order, and find a list of all the resources (files) that are part of this order. An example is shown below. Clicking the download button beside any of these resources will download that specific file to your system. It's as simple as that!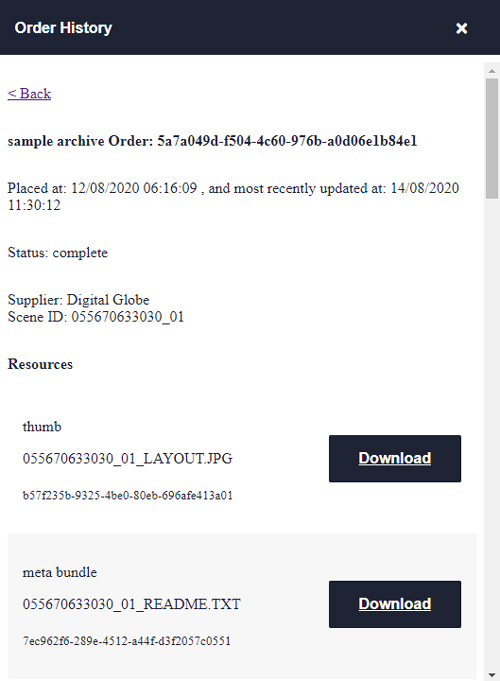 If you have any questions about this specific tutorial or would like to learn more please feel free to contact the Arlula team at hello@arlula.com.